Treatment/Therapies Availalbe
Massage, Facials, Crystal and Reiki Sessions
Give yourself some me time
You deserve to look after your body and your mind. …
All the treatments offered will help to relax the body and calm the nervous system….
Massage
Whether you want to relax or have some aching niggles that need a little working out then book in for a massage.
With a choice of a Full Body,  Head, Neck and Shoulders or Back, Neck and Shoulders there is something for everyone…
A few of the benefits of massage are listed below….
Improve muscle and skin tone
Lowers blood pressure
Reduces anxiety
Reduces tension headaches
Full Body Massage with Hot Stone Massage also available
Maybe you just want a shorter half hour treatment…..
You can choose a Back, Neck and shoulder massage, Head, neck,  shoulders and decollete or legs. Click on the link to pay for your half hour treatment…..
Neals Yard Organic Facials
Whatever your skin is in need of a facial will nourish and revitalise you leaving your skin looking and feeling radiant. The products used are Organic and will be chosen to suit your specific needs,  that may range from Dehydrated, Sensitive, Dry, Oily or Combination.
After the initial consultation your skin will be cleansed, exfoliated, massaged and then once the mask has been applied you will receive a choice of hand and arm massage, feet and lower leg or scalp and neck massage. The treatment will finish with an application of eye and face cream.
This 60 minute treatment is £30 and available to book by clicking the button for times and dates
Reiki/Energy Work
Reiki is often referred to as The Universal Life Force and works on different levels the physical, mental, emotional and spiritual.  Depending on the individuals needs it is helpful in bringing balance.  The Reiki practioner is the vessel for which the energy flows, so whilst laying fully clothed on the massage couch I will place my hands gently on or just off the body to allow this flow. 
Through the treatment you may find yourself deeply relaxed, sometimes sensations ranging from heat/cool, tingling, throbbing, visualising colours and all sessions are different to each individual.
Benefits can include:
Better sleep                                                                 Reduces blood pressure                                            Helps relieve pain                                                        Supports the immune system                              Helps spiritual growth and  emotions                                                 Anxiety                                                                                    Back problems                                            Depression                                                                         Low Self Esteem/Poor Self Confidence               and many more
Reiki Practioners follow these 5 principles:
Just for today I will not anger                                                                            Just for today I will not worry                                                                            Just for today I will be grateful                                                                         Just for today I will do my work honestly                                                       Just for today I will be kind to all living things
1-2-1 Gong Sound Therapy
Sound Healing works on all levels – physical, mental, emotional and spiritual. When the gong is played it bathes the human body in sound and is why we use the term "Gongbath"
As with the above treatments and therapies the Gongbath is excellent if you have any aches and pains inthe body, suffer with stress/anxiety. It can help bring up suppressed emotions and is very powerful in starting a healing process of the body and the mind.
The benefit of a 1-2-1 GongBath is that the gongs work to the needs of the individual.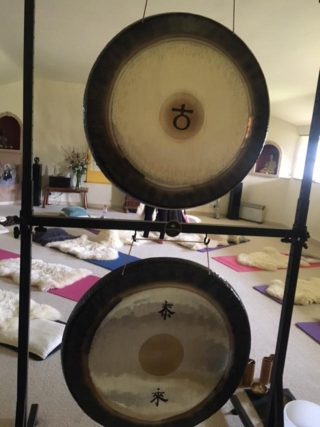 Availability
Treatments are available Mondays 1-4pm, Tuesdays 11 am – 3pm, Thursdays 1-4pm, Fridays 11am – 4pm,however I do have some flexibility for times with Evenings and weekends on request. Please check availability if you have a specific day and time in mind with me,  then use the link to make your payment.
Aftercare
Mostly clients feel relaxed and uplifted by the treatment. However, sometimes a person will have what is known as a 'healing crisis'. As a persons vibration goes up, toxins that have been stored in the body will be released into the blood stream to be filtered by the liver and kidneys and removed from the system. Sometimes this healing crisis can cause a person to get a headache, stomachache or feel weak. In this case we recommend them to drink more water, eat lighter meals and get more rest. The body is cleansing as part of the healing process, so this is a good sign.
These are known as complementary therapies and are not intended to be a substitute for professional medical advice, diagnosis, or treatment. It is not a substitute for a medical examination, nor does it replace the need for services provided by medical professionals.